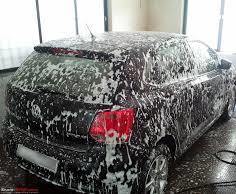 There is more to maintaining a car than regular visits to the mechanic. To function effectively, a car needs to be clean, both inside and outside. Here are a few tips that will help you keep your car looking like it just came out of the showroom.
Wash Regularly
This may seem too obvious, but you may be surprised by the number of car owners who don't wash their vehicles and end up needing detailing more than they should. Make it a habit of washing your car at least once a week. Doing so will enable you to maintain the original appearance of the car and reduce the need for regular detailing. If you have a busy schedule and unable to clean the car by yourself, take it to a car wash. Make sure the car wash has a good reputation and proper cleaning equipment.
Remove All the Parts That are Worn Out
Get rid of old seat covers, side mirrors, floor mats, license plates and cargo liners. These components can make your car look very old, even if you just bought it the other day. You can find replacements in local auto stores or car dealerships. Companies like Weathertech have a huge collection of car parts you can choose from.
Use a Leather Conditioner
It is also important to take into consideration the interior of your car. Torn and faded leather seats will age your car every single time. Keep the leather in good shape using a leather conditioner. A good conditioner will reduce fading, moisturize your leather and reduce the damage caused by UV radiation. However, this does not mean you ignore a conditioner if you don't have leather in your car. You still need it to clean and condition the covering on your dashboard, door panels and console.
Organize the Paperwork
Do not forget about the papers that usually find their way inside the car. These may include registration and insurance documents, scribbled directions, maps and many others. Establish an accordion file in a small compartment within the car to prevent paper from scattering all over.
Apply a Tire Conditioner
One of the key signs of a poorly maintained car is its tires. Dry and faded tires make the car look very old. Use a nice coat of tire conditioner every time you wash the car. This will give the tires a new shiny and fresh look.
Change the Oil
Change the engine's oil after every three months or 3,000 miles. This is important, especially if you drive in dusty areas or stop-and-go traffic. Apart from the oil, change the air filter, oil filter and fuel filter. Check if the PCV and spark plugs are operating well. Never attempt to change the oil or anything related to the engine if you don't have any experience in handling cars. Visit a mechanic instead.
The life of your car depends on how well you maintain it. Wash your car regularly, change the engine oil, apply leather and tire conditioner and replace damaged parts if you want your car to last longer.